WHOLEGARMENT allows a knit accessory business
to go beyond its traditional limits.
TAIKO Co., Ltd.
President
Ippei Kanda
Pursuing the limits of circular knitting
Having been in business for about 70 years, our company has been using circular knitting machines to produce original products, mainly socks. About 20 years ago, we patented socks made separately for the left and right foot. Since then we have continued to cultivate our skills in circular knitting by adopting the latest circular knitting technology from Italy and manufacturing five-toe socks.


* Circular knitting machine: Machine capable of knitting in a circular motion to create tubular knits such as socks at high speed.
Encounter with WHOLEGARMENT and its possibilities
Circular knitting machines are specialized in producing tubular knits, and gradually we began to sense the limits of its technology. At an exhibition held around that time, we learned about SHIMA SEIKI's SWG-N2 series WHOLEGARMENT knitting machine and decided to use it to expand the range of our products.

With the WHOLEGARMENT knitting machine, it is possible to create products that are not possible with circular knitting machines. Take, for example, the five-toe sock. With circular knitting, the toes are knit in a way that the tips do not fit well, but with flat knitting that problem is solved. Furthermore with WHOLEGARMENT, since there is no need for sewing, there are many other advantages such as shortened lead time in the production process.

Recently, there have been many orders not only for socks but also various combinations of different items such as gloves, caps, and scarves. There is a great advantage in using a WHOLEGARMENT flat knitting machine because it can produce all of these items.

In this way, the WHOLEGARMENT knitting machine has become indispensable in realizing various ideas.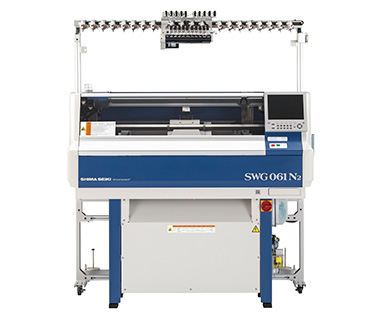 WHOLEGARMENT knitting machine SWG-N2
Looking ahead to medical applications and overseas expansion
Currently we are actively participating in the development of medical products through joint research with local universities, as well as overseas exhibitions. In the future, we would like to break through geographical and industrial barriers with the use of WHOLEGARMENT knitting machines, creating original brands that can be developed worldwide, in addition to OEM production.

To that end, we look forward to further innovation by SHIMA SEIKI for producing value-added products that go beyond the current range of knitting.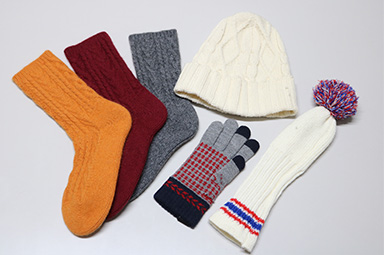 WHOLEGARMENT products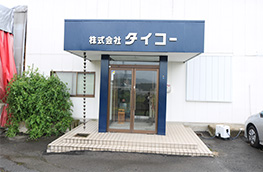 TAIKO Co., Ltd.
| | |
| --- | --- |
| Established | 1989 |
| Location | Nagano, Japan |
| Type of business | Planning and development of knitted accessories such as gloves, socks and braces |
| Website | https://www.taikojapan.jp/ |
We can tailor solutions to fit each customer's requirements.
Please feel free to contact us.